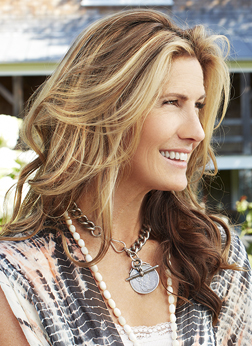 Linherr hollingsworth, owner & principal of Linherr Hollingsworth believes that great design should evoke emotion. After a successful career in fashion with Adrienne Vittadini and Eli Tahari, her next chapter was a natural fit. Linherr set her focus on interiors and never looked back. Linherr brings her innate sense of style, keen eye for detail, and years of experience to every project she undertakes. She believes clear communication is key. Her role as a designer is to be a good listener and to identify precisely each of her client's needs.
The Linherr Hollingsworth team resides in a restored factory in Norwalk, CT. and has developed a stellar reputation and loyal following among clients and the community at large. Known for delivering well thought-out interiors, and an unsurpassed level of project management, Linherr Hollingsworth is committed to the belief that if it can be imagined, it can be created! Linherr has formed trusted relationships with experts in the field and collaborates closely with architects, builders, and custom craftsmen to ensure that both function and aesthetic work in harmony..
In addition to her successful interior design business, Linherr is also a talented artist and prolific product designer. She has created a line of contemporary wall coverings and fabrics, as well as a collection of designs for carpeting, passementerie, lighting and hardware. Whether it is discovering emerging artists, searching for vintage treasures, or fabricating custom pieces, Linherr is enthusiastic about it all, embracing the opportunity to educate her clients about the creative process. At Linherr Hollingsworth, clients' dreams become realities and their expectations exceeded!